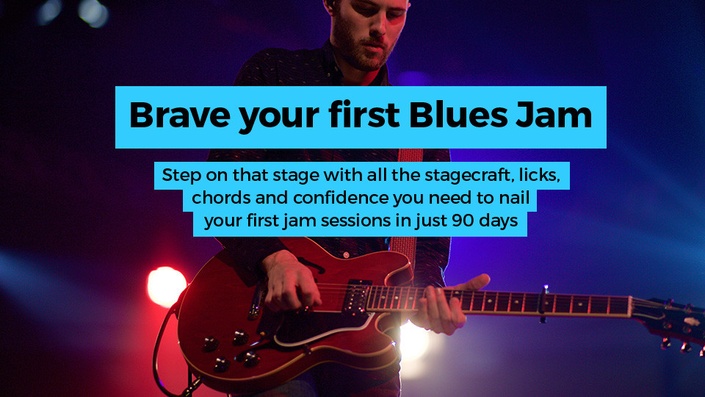 Brave Your First Blues Jam
Play live onstage for the first time with confidence and skill in just 90 days
For bedroom guitarists who dream of playing at their local jam/open mic but fear they don't know enough
If you are a self-taught bedroom guitarist who needs the courage and live performance know-how to get out there to jam with real players, then Brave Your First Blues Jam is for you.
If you are a bedroom player who wants to begin playing live without falling on your face
If you want to jam with buddies or a band but don't want to be embarrassed
If you want to play at an open mic or jam night but the anxiety of performing is too much
Brave Your First Blues Jam gives you all the blues playing knowledge, gig preparation guidance and jam veteran advice you need to deliver a confident first live performance.
Why start with the blues?
Blues is a safe place to begin because the Blues genre has a simple and universal format – meaning no surprises.
3 chords are all you need
Your level of guitar playing knowledge doesn't need to be high
1 scale covers you for 90% of the time
A blues jam is like Kindergarten, a place when you can learn from other musicians and grow through experiencing playing in a live situation.
The audience are always encouraging and supportive
More experienced jammers will help you out
You only play for 10-15 minutes
Learn to play live for the first time without the crippling stage nerves
Written by a seasoned international touring guitar player and blues jam regular, plus contributions from jam veterans with decades of experience, Brave Your First Blues Jam starts you on the next stage of your journey of growth as a guitarist by helping you prepare, understand, interact and play with other musicians at your local jam session or open mic night.
"I'm still on a MASSIVE high from the experience and listened to the recording all the way home !! I rate it as one of the best things I've ever done and right up there with going solo in my first aeroplane at the young age of 15. I learnt an incredible amount. Really cool!!"
- Tim V, BYFBJ Student and Airline pilot


"Your instruction method is very clear and easy for me to follow. I eagerly await every new lesson you put up!"

D. Garree

"Your easy and colloquial way of teaching coupled with your insight as a Jimi Hendrix tribute band player are precious!"

M Torres
Jamming with real musicians – but that's intimidating, right?
Sure, you'll be a little anxious on the night but it won't be because you've no idea what you are doing. Brave Your First Blues Jam takes you by the hand and walks you through everything you need to know. The course provides the advice and preparation methods of professional musicians, plus all the licks, chords and song knowledge you need, as well as gear and stagecraft tips.
Prepare for your first time on stage in front of an audience

Inside each module you receive a comprehensive look at one aspect of the performance. This is 50% guitar tuition and 50% practice, preparation and stage nerves management techniques

Banish that heart-thumping feeling of dread that is stage fright
Discover the "unwritten rules" of a jam session and what is expected of you
Know how, what and when to communicate with other musicians while you're on stage
Uncover the secrets of stagecraft: Performers with decades of on-stage experience share their best tips
Learn optimal practice and preparation methods so you don't forget what to play or lose your place
Avoid rookie mistakes – over the years we've made them all, so you don't have to
Understand the key blues forms you're likely to encounter and what might trip you up
Learn foolproof rhythm techniques – even if you don't know the song
Master cool blues licks and learn strategies for developing great solos
Practice with Jam tracks to sharpen up your playing before you go live

Performance preparation method alongside blues guitar lessons
Aswell as trainings and tips on the things to watch out for when playing live there's a series of blues guitar masterclasses leading you through rhythmn and solo playing ideas and construction, performance tips and some cool tricks to pull out of the bag when you're up there on stage. Things like how to:
Construct an awesome solo even if you don't know many licks/scales
Avoid playing exactly the same guitar part as the other guitarist
Effortlessly join scale box shapes to play all over the neck
Understand the key blues forms you're likely to encounter and what might trip you up
Totally nail 2 cool jam performance tricks for impact and kudos
In 90 days you'll be ready both mentally and musically
Get started today and be ready for your first jam session in 3 months or less!
A perfect gift for dad
Want to gift this course? Contact me directly and I'll make it happen.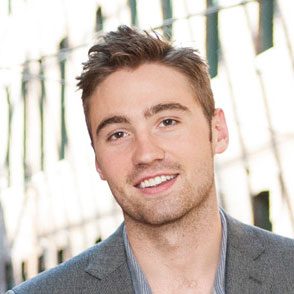 "Great videos, by far the most comprehensive breakdown I've ever seen"
Buddy T.B.

Play live in 2020, invest just $197 in yourself!
20 hours of guitar teaching, practice methods, performance preparation, live on-stage tips, interviews, techniques for managing stage fright, worksheets, tab, checklists (value $2,200)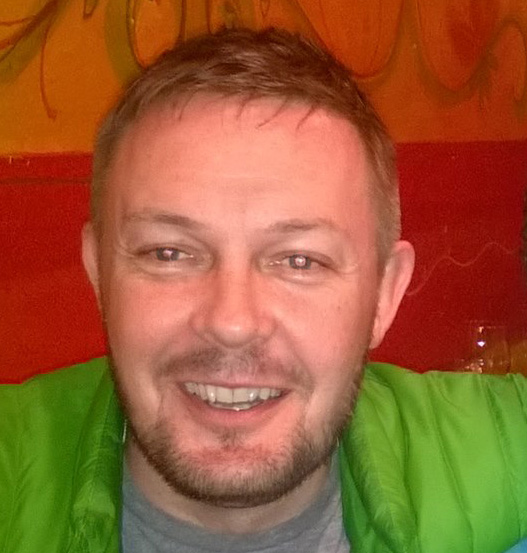 "You were a fantastic conduit and guide. I know i'm a solid guitar player but have always lacked the organic feel of someone who can move around the fretboard."
B.V. Shaar
Your Instructor
I've been playing guitar for 33 years and teaching for over a decade. I came of age listening to Clapton, Stevie Ray Vaughan, Albert Collins, BB King, Buddy Guy, Jimi Hendrix and Gary Moore.
I've performed in the UK, Europe and the United States and spent years in a blues band with regular gig at a blues bar in London, England. Right now, I play in a Jimi Hendrix Tribute Show.
I remember what its like to be a self-taught guitarist because I am one. Stuff can get confusing and there's nobody to ask. I always keep this in mind when teaching, I avoid jargon and abstract music theory, because if I explain it clearly and you just play it, you'll understand it.
Blues is a genre that's forgiving to learn but challenging to master, that's why its a perfect framework or your first jam session. At a blues jam, you feel safe those just 3 chords but there's also room for you to listen, learn and create.
I'll guide you through the preparation, the musical knowledge and give you all you need to know about playing live and dealing with your anxiety of this being your "first time".

Originally from the UK, I now live in New Zealand. I've toured in bands to Europe and the United States and learned much from jamming with the awesome musicians around me. I want to help you do that too – so let's get started!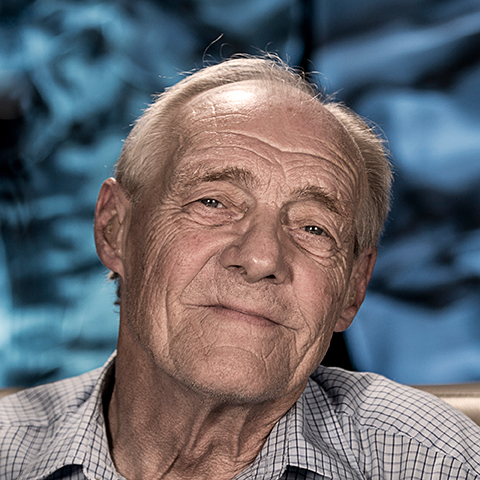 "I just recently started playing guitar again after giving up for about 10 years because I have nerve damage and degenerative disc disease in my neck. I'm not better but I got the itch to start playing again. I can use your videos to get me back in shape."
R Danneskjöld
Frequently Asked Questions
When does the course start and finish?
Course begins as soon as you purchase and finishes whenever you get to the end. It's a completely self-paced online course so it fits around your other commitments. However roughly speaking there's an intake every quarter.
How long do I have access to the course?
There is no time limit, after enrolling you have lifetime access across all devices you own.
What if I am unhappy with the course?
There's a full 30 day money back guarantee. If, after purchasing you decide this course is not for you, then just email me
[email protected]
within 30 days and I'll refund your course fee - No questions asked.
Is this for beginners?
No, this is an intermediate level course - I define intermediate as being able to play a few barre chords, a couple of scales and a few simple licks.
Do I get full access immediately or will sections unlock over time?
You get full and immediate access to everything.